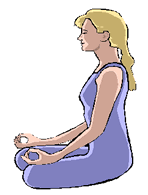 New to Surrey Dedicated Space offering Yoga classes for:
adults
family
teens
kiddies
baby
postnatal
pregnancy
restorative
rehab for sports
1 - 1 yoga therapy
For further details please telephone or email. Class schedule now available.
Experience the life-long benefits of yoga for heath and well being. Increase flexibility, muscle tone and strength. Learn breathing and relaxation techniques to release stress and tension in the body and calm the mind. Good for maintaining health as a preventative measure and to support the self in times of change and stress. You're never too young or too old to begin! Take time for yourself – you're worth it.
Weekend workshops in yoga and complementary therapies and healing